A month ago, we made a short trip to Bintan, Indonesia for a quick getaway. Bintan Island is part of the Riau archipelago of Indonesia and can be traveled by a 1-hr ferry ride from Singapore. The island is a popular beach destination for Singaporeans who wanted to get away from the city for the weekend.
Since this was a spontaneous trip, we booked last minute just the day before our actual trip. Good thing we were able to find a Bintan weekend package which included ferry transfers, hotel transfers, and accommodation. I called the travel agencies in Lucky Plaza and the most reasonable package I got was from Fil Air Travel & Tours. I was able to find the cheapest last-minute package at SGD207/pax. This already included SGD 22/pax for the ferry taxes.

The trip


Fast forward to the day of our Bintan trip..
Since, we booked the trip late, the only available seats for the ferry is at 12:10PM. We were at the Tanah Merah Ferry Terminal 1 ½ hour before our departure. We waited in the Emerald Class Lounge since we got Emerald Class Tickets. The lounge offers free drinks and cookies, and internet/wi-fi. It's a comfortable place to wait for your departure since the area is exclusive to Emerald Class passengers. Also, passengers are given priority in boarding the ferry.
The travel to Bintan took an hour but Indonesia is an hour behind Singapore. We still arrived at 12:10PM in Bandar Bentan Telani Ferry Terminal (Bintan). We were picked up by the hotel bus along with other tourists. The travel from the ferry terminal to our hotel, Bintan Lagoon Resort, was more or less 20 minutes.
Bintan Lagoon Resort
We
finally
arrived in the hotel and we were greeted with a traditional Indonesian dance by locals.

Check-in was slow due to the influx of tourist arrivals. Anyway, we still managed to check-in before 1PM.
Bintan Lagoon Resort is a sprawling beach property. There are several hotel buildings, a good number of restaurants to choose from, nice pool area, and a scenic beach area. The resort also have a golf course. We also saw an immigration building near the beach; it's close to getting finished. I guess, they will soon open this so tourists could arrive in the resort directly rather than from passing through the ferry terminal.
Hotel facade
Our room is located in the first floor of the west wing of the hotel. The hotel room included amenities like cable TV, fridge, hair dryer, aircon, safety deposit box, and a mini-bar. The only thing I didn't like is that our backdoor opens to small road where vehicles would pass by from time to time. And yeah, I must mention that I lost my Billabong maillot here when we left it there to hang dry in our balcony. Oh wells.
Garden View De Luxe Room
Moving on, here are some more pictures during our stay at Bintan Lagoon Resort.
The hotel property is really huge. You can go around it by driving the golf cart or you can just walk while enjoying the scenery.
At the swimming pool
I give two thumbs-up to the resort for keeping the pool well-maintained and clean. Not only the pool is big enough to accommodate big crowds on weekends but there are also plenty of pool beds. There's also a bar where you can order coolers while you are lounging by the pool.
Big pool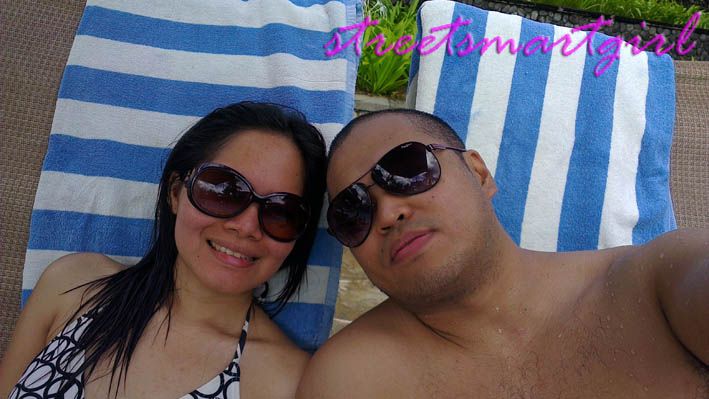 After swimming
On our first day, the weather was kinda gloomy so we opted to just stay in the pool area.
The beach
The beach in the resort was also good with fine whitish sand and long beach stretch. I didn't have high expectations of Bintan beaches reading from travel blogs. But I think Bintan Lagoon's beach is also pleasing and scenic in its own way. This was my second trip to Bintan and the first one was in a resort in Tanjung Pinang which is the city/capital of Bintan. We had to ride a boat to get into another private island just to be able to swim and enjoy the sea because the beach in the resort is always low tide. But in Bintan Lagoon, the beach is accessible and clean. The water is shallow and cool.
Towards the beach
beachfront
By the time we decided to hit the beach, it was already sunny outside which was
good since it was raining when we first arrived in the resort. Other tourists also flocked in the beach.
Beach beds near the bar
Good day at Bintan
Flyfish, anyone?
The food
There are several restaurants in the hotel like around 4-5. We ate at two of them. Hotel food is expensive. For this trip, we spent like SGD 200 for food just for an overnight stay. There was no choice to eat somewhere since the resort is far from the town.
It was good that the food we had were enjoyable and appetizing. Never mind the price, the food was pleasant anyway. There was always complimentary bread for every meal ordered which was also freshly-heated.
We ate at two of the hotel's restaurants for our lunches and dinner – Kopi O which is the main resto and Orzo which serves Italian cuisine.
One of the best-tasting quesadillas. Yum :P
Salmon skewer. it did not disappoint.
Enjoying my seafood marinara
Buffet breakfast was served as well but the choices were limited. It was good enough though for a morning meal.
Bye Bintan
Our weekend stay was soon over. Time flies when you're having fun. We checked out 12NN but stayed until 4PM in the hotel because the only ticket we got going back to Singapore is at 5PM.
Overall, we had an enjoyable stay. The whole Bintan experience from hotel, food, and the beach exceeded our expectations. This is my second trip to Bintan and this was a whole new experience for me.
Relaxed after the trip
In its truest sense, this was an escape for me.. to get away from all stress and worries I've felt in the past weeks. So it was good choice that we chose Bintan as the perfect escape :)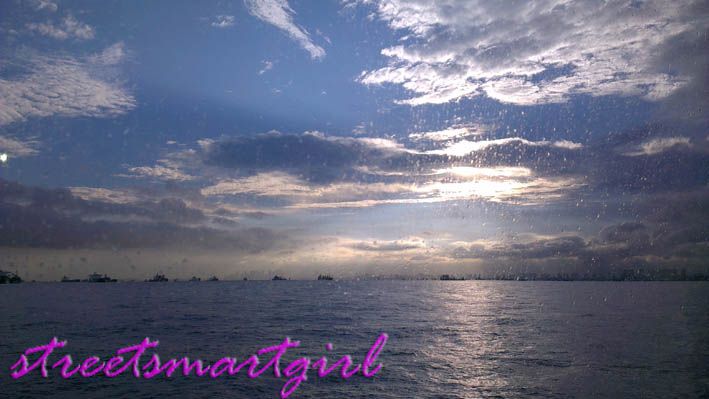 En route to Singapore