I've been hearing about Calaguas Islands in Camarines Norte for the longest time. My curiosity grew more upon reading various travel blogs boasting Calaguas' white sand and blue turquoise-waters. I was secretly wishing that someone would organize a trip to Calaguas and tagged me along having known that only beach camping can be done in the island. There's no electricity, mobile signal, and any commercial establishments in Calaguas.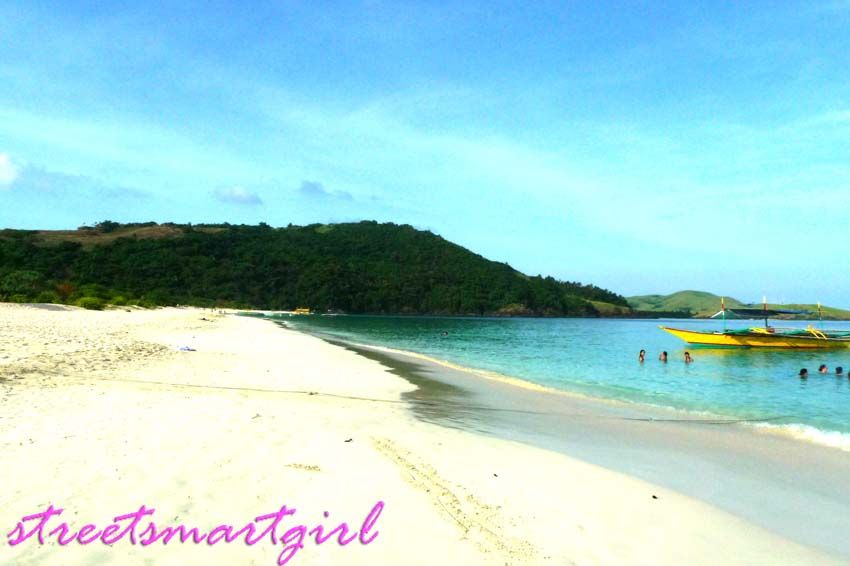 Luckily, I was able to find a tour organizer arranging beach camping trips to Calaguas. I booked an overnight camping trip with Calaguas Hullabaloo together with my bff Yana who's vacationing from Dubai and other good friends. We got the 2D/1N package for Php3200 inclusive of roundtrip bus tickets (Manila-Daet), land transfers, boat transfers, tent accommodation, and camp meals. A surfing sidetrip to Bagasbas Beach in Daet, Camarines Norte was included in the package. It's been more than six months since I last went surfing and I missed the feeling of getting stoked. This trip was what I exactly needed to break away from the city life.
My beach excitement slowly started creeping the night we left Manila. We boarded an Amihan Liner bus in Shell Magallanes and it took 8 hours travel to Daet. I dozed off all throughout the travel.

The road to Bitukang Manok (zigzag road) in Cam Norte as we fondly call it woke me up the next day. Feeling nauseous from all the sudden turns the bus made, I had to wake up or else I would probably vomit.

The Saturday weather was perfect for beach bumming. We met my bff Yana in Vinzons Port since she's already in Bicol and we came from Manila. After being assigned to our boat, we wrapped our backpacks in trash bags and loaded them to the boat. We were finally bound to Calaguas!
Contrary to scary stories I've heard, the sea was generally calm. I was bracing myself for a rough boat ride with waves that could go as high as 4-ft as I overheard. Waves are strong in this part of Camarines Norte since the sea is already part of the Pacific Ocean.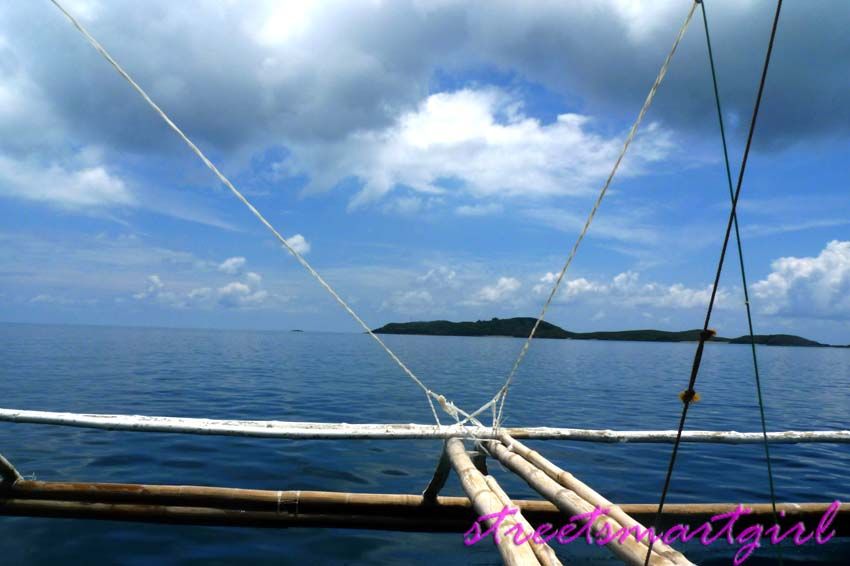 Calaguas is a group of islands composed of Tinaga, Guintinua, and Maculabo islands. We camped in Mahabang Buhangin or Long Beach as it is called.
After 2-hrs of boat travel, we reached Calaguas in mid-day. The moment I stepped into Calaguas beach, I felt nostalgic and felt that I've already been to this beach before.
Calaguas reminded me of Boracay's blue-turquoise water, long beach stretch of Pagudpud, and powdery white sand of Panglao. Calaguas is more than what meets the eye.

It was scorching hot with the sun brightly shining. I love sunny days but the summer heat is unbearable these days. We settled into our tents and immediately changed into our swimsuits. I usually don't swim in mid-day because it's freaking hot and I don't want to get sunburned. But there isn't lots of shade in the island. You can choose to stay inside your tent which felt like being baked in an oven or you can swim in the cool water.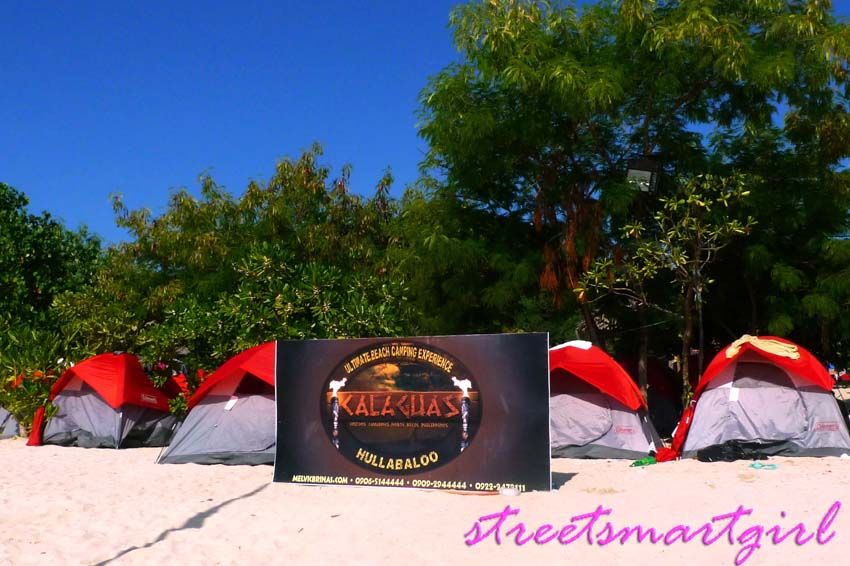 Here some of the activities we did in the island. There's not much to do actually but beach bum! I love it!
Swimming. You will enjoy swimming in Calaguas waters. The sand is fine and the water is very clear, perfect for underwater camera shots. You can swim a few meters away from the shore but beyond that there are coral reefs in the seabed which is also good for snorkeling.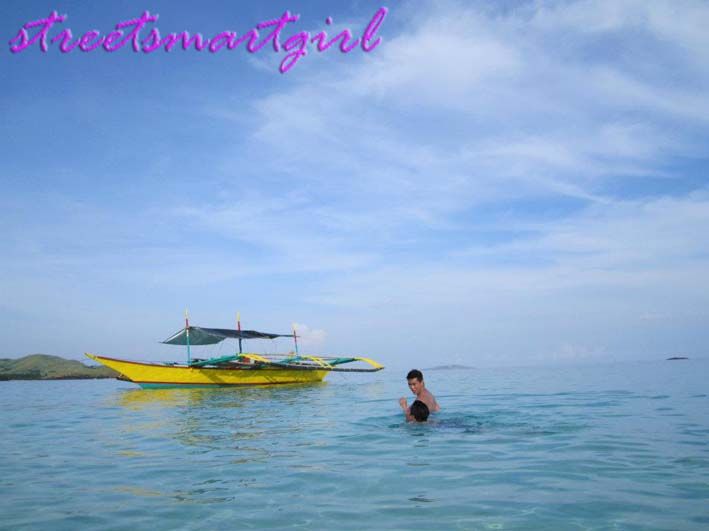 Photo ops. Numerous photo ops, why not?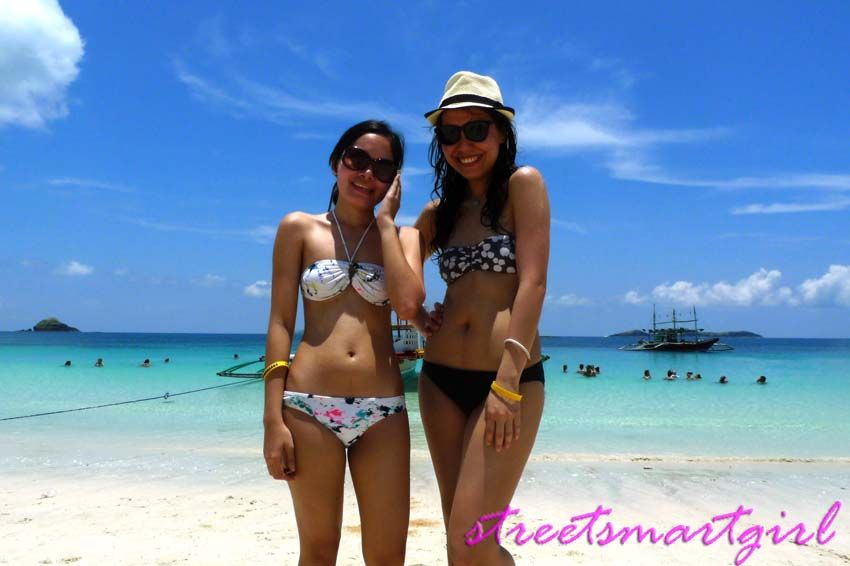 Sun worshipping.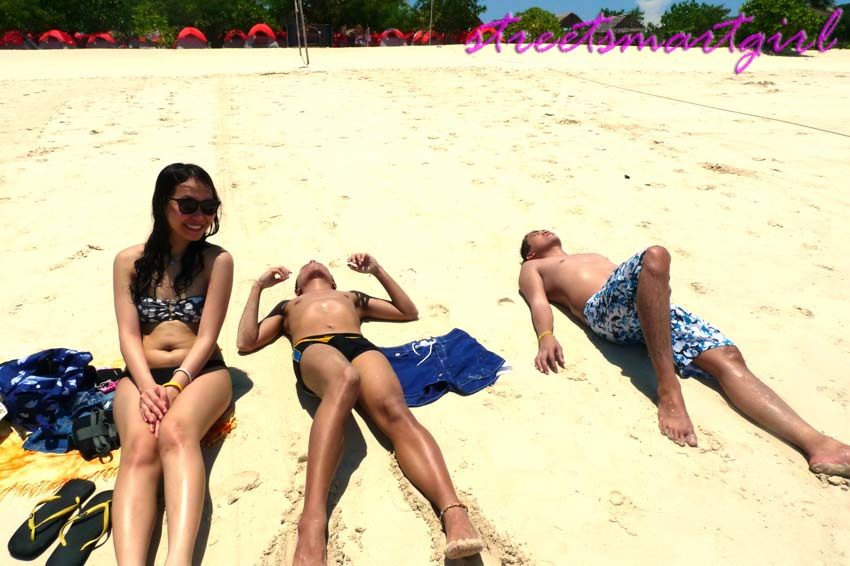 Or you can choose to hide from the sun. I noticed that in the beachfront, most trees have just started growing so don't expect a lot of shade.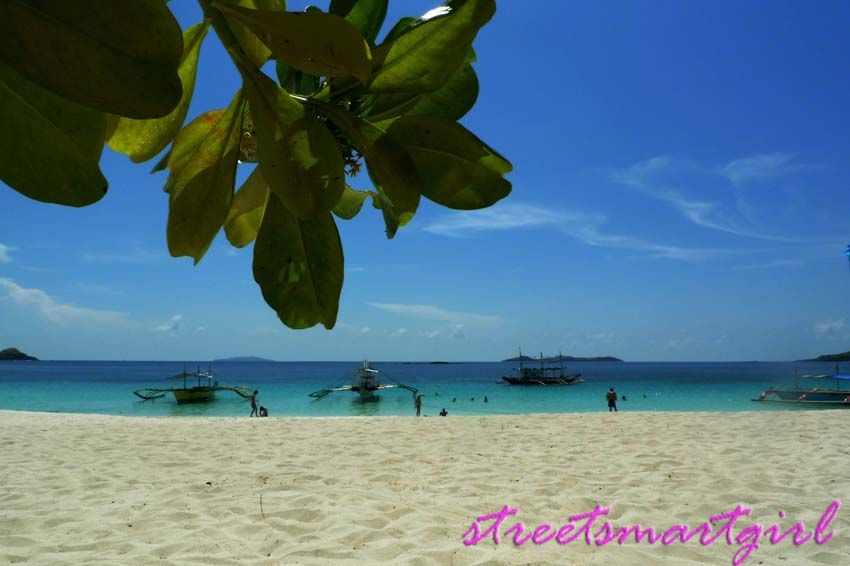 Walking by the beach. Calaguas' sand is fine and soft. It won't hurt your feet if you walk barefoot.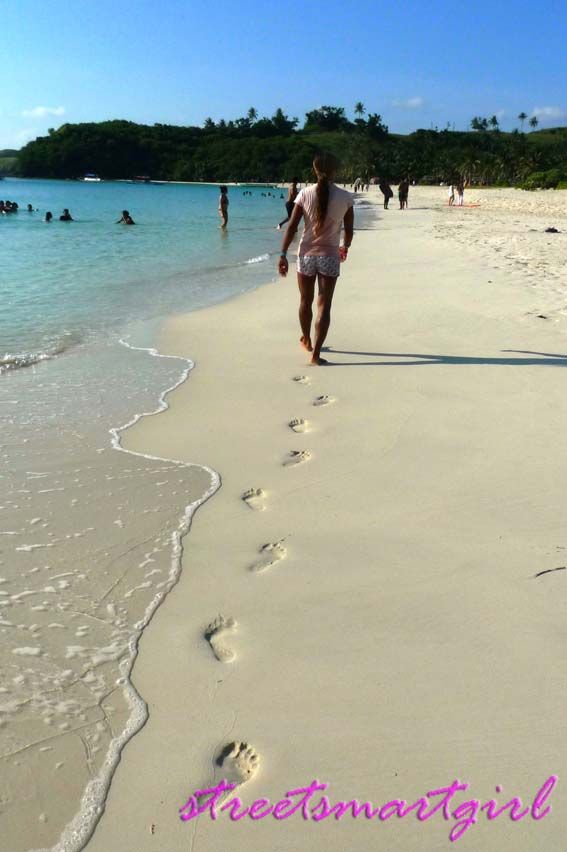 When it was nearing sunset, we climbed into a hill to get at 360-degree view of the whole island. The view from the hill reminded me of Sabtang Island in Batanes. You can see the surrounding islands as well as the whole beach stretch. Here, we also checked if there was a mobile signal but only for Smart.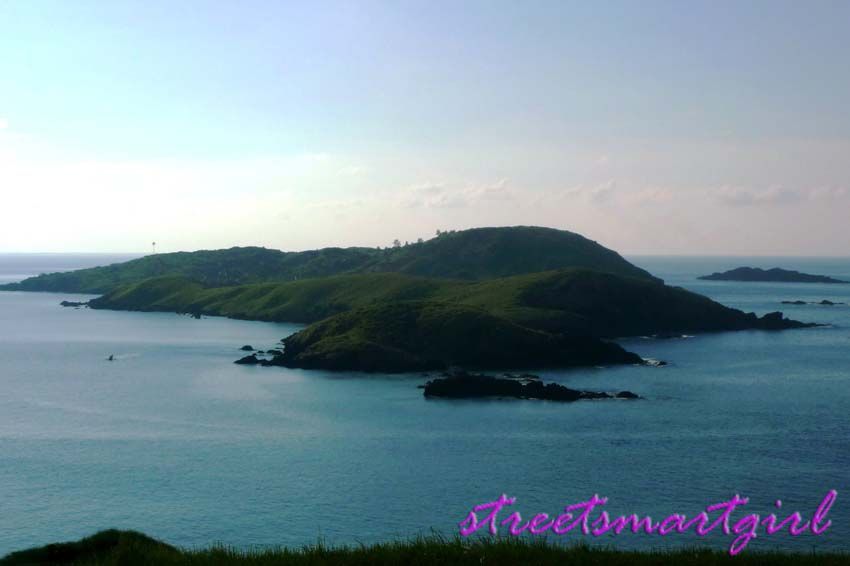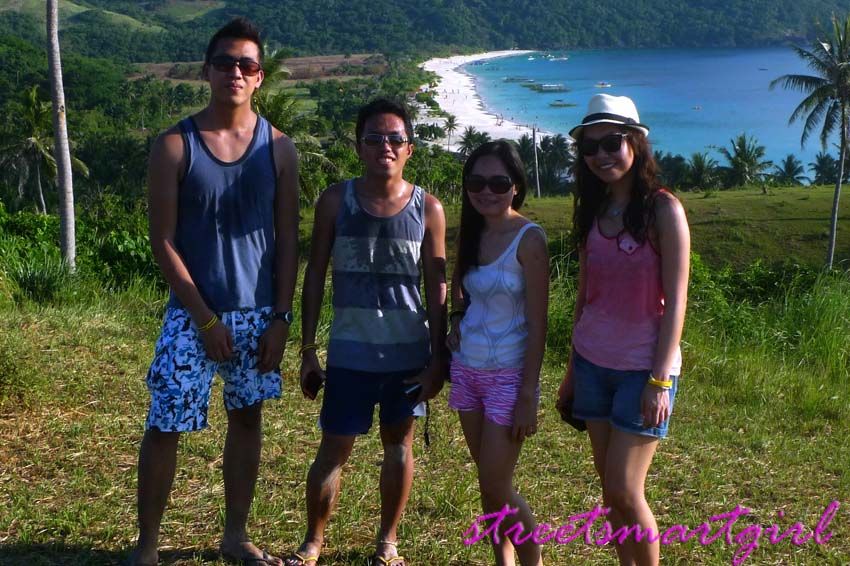 There were a lot of beach-goers in the island based from the view from the top of the hill. But the 1km beach stretch is long enough to accommodate the weekend crowd.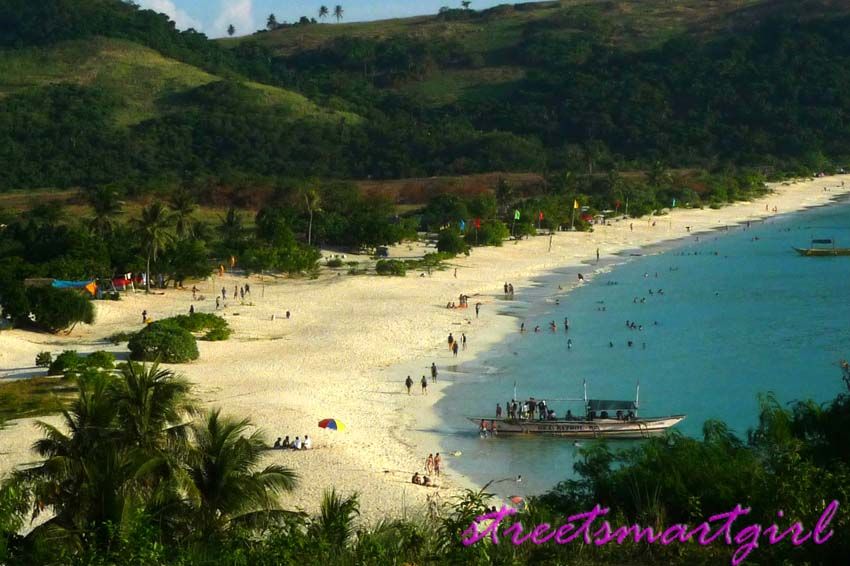 We spent all our time in the water until sundown. Although it was already 4ish, the sun was still shining brightly. The cool water provided relief from the intense heat of the sun that day. The beach sunset was similar to Nagsasa Cove's sunset in Zambales.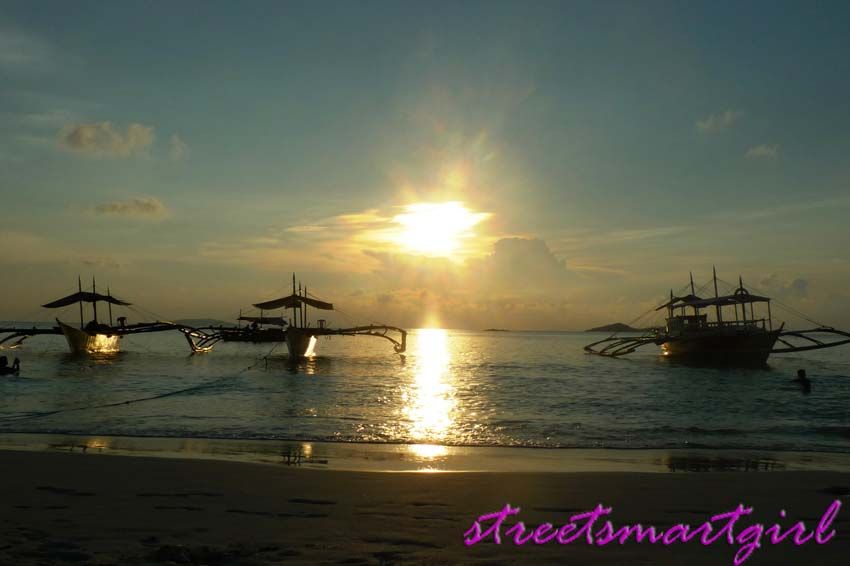 After bathing in the sea the whole day, we finally took a bath in the water pump which is the only source of fresh water in Calaguas. There's also a toilet in the island so no need to worry in case nature calls you :)
Dinner followed afterwards and we slept early that night. There was a reggae party organized we didn't bother to go. We immediately fell asleep when we lied down inside the tent. It was Supermoon that night when the moon is in its closest distance to the earth.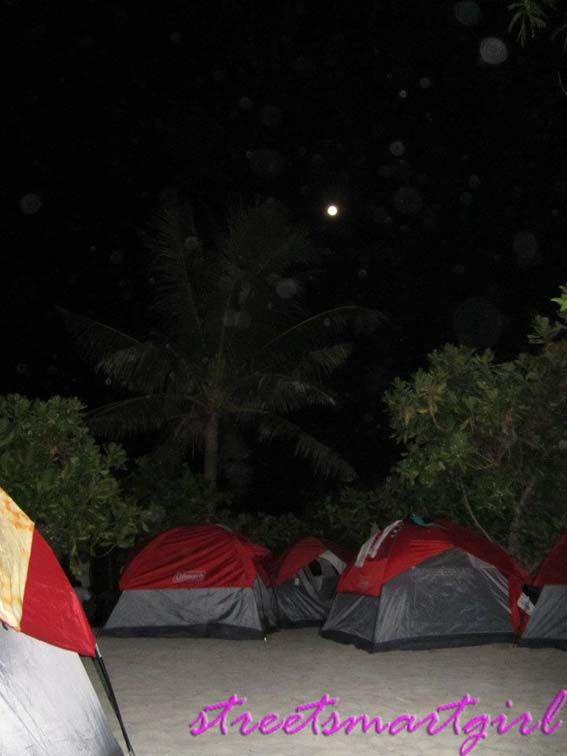 Next morning, we woke up to the sound of the crashing waves in the shore. We felt refreshed coming from a good night's sleep. It was our last day in Calaguas and we wanted to make the most out of our time. We spent the early morning in the beach when the sun isn't completely out yet.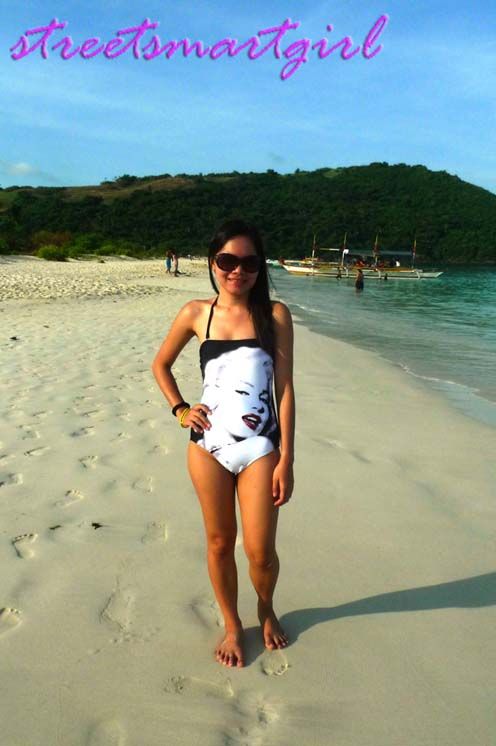 Before noon, we left the Calaguas Island. It was a short but sweet stay. I will be surely coming back. This is the kind of beach you'll never get tired of coming back. Calaguas has a great potential in becoming a top beach destination if it will be developed. But I wish not! I want Calaguas to remain the same for the longest time possible – pristine, undeveloped, and untouched.

Definitely Calaguas lovin'